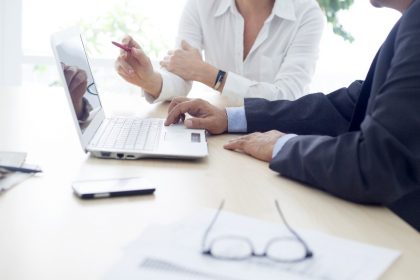 \With unemployment at an all-time low, employers are scrambling to find good employees and may be tempted to use short-cuts to fill their positions. One short-cut decision that could come back to haunt an employer is to skip a criminal background check on your new-hires. Did you know that nearly 1 in 3 adults in the United States has a criminal record? This represents approximately 77 million Americans, so how can I protect myself from individuals who pose a risk to my business, my employees, my customers, etc.?
For years, employers have asked whether an applicant has been convicted of a felony on the job application or during an interview, but several states are now enacting laws that prevent employers from discovering this fact until later in the screening/hiring process.
Beginning in September of 2019, for example, employers in Colorado with 11 or more employees can no longer ask whether somone has a felony conviction on the job application. This law is commonly known as, Ban the Box.
Initially, these laws applied to government employers only. However, more states and cities are passing laws that apply to private employers as well. Currently, 11 states (and the District of Columbia) have ban-the-box laws that apply to private employers and close to 30 states have laws that apply to government employers.
To find out whether your state has a law regarding employer use of conviction records, select it from the list below.
To learn whether your city has one of these laws, you should contact your local government.
Now, let's talk about the practical application of these laws.
Even if you operate in a state that has Ban the Box laws, you can still inquire into someone's criminal history, but it has to be done AFTER the hiring decision has been made. Here are two possible scenarios:
The Verbal Offer. You have interviewed a candidate and found him/her to be otherwise qualified for the position, so you extend a verbal offer of employment either in person or over the phone. The conversation would go something like this: "We would like to hire you as a <job title> starting on Monday. Before we move on, I would like to ask if you have been convicted of a felony? If so, please explain".
A Written Offer.  You have interviewed a candidate and found him/her to be otherwise qualified for the position, so you send a written offer letter that is contingent on certain things, one of which would be whether the candidate has been convicted of a felony.
IMPORTANT NOTE: It is against the law for a convicted felon to withhold information about a felony that is "unspent" if asked by a prospective employer. A spent conviction is a conviction which, under the terms of Rehabilitation of Offenders Act 1974, can be effectively ignored after a specified amount of time. The amount of time for before the conviction is spent depends on the sentence imposed, not on the offence. For employers, we still get to choose whether to IGNORE the conviction or not. This is still a choice that the employer gets to make, this is not a mandate, SO….If a prospective employer asks a convicted felon if he/she has been convicted of a felony, the convicted felon can legally withhold the information if the conviction is SPENT, but that does not, nor should it prevent an employer from running a criminal background check anyway. TRUST BUT VERIFY would be an appropriate position to take. You may discover something in the applicant's past that might raise a red flag.
If the applicant does disclose an unspent felony conviction after a conditional offer has been extended, the employer can still decide what level of risk he/she is willing to take and can rescind the offer if the employer believes that the crime poses a risk to other employees, customers, clients, the business, etc. In 2012, the EEOC issued guidance that encourages employers to consider such things as:
How long ago was the crime?
How serious was the crime?
How relevant was the crime to my business?
I think that most of us believe in the concept of second chances and redemption and paying one's dept to society, but when 1 in 3 adults have a history of criminal activity, If you're not doing a criminal background check on your new-hires, you may be setting yourself up for a lawsuit. If you have hired a convicted violent criminal or a convicted sex offender, for example, and this person injures a co-worker or a customer, the employer can be held liable for "Negligent Hiring". The courts would rule that the employer could have and should have done a better job of screening the new-hire but didn't. Employers may argue that it is too expensive or that they needed to hire someone quickly and didn't have the time to run a background check. Employers must weigh the risk of not running a criminal background check against the moral obligation to protect employees, customers, clients, etc., as well as the potential legal liability to the company if someone gets hurt.
Please call if you have any questions on this subject.