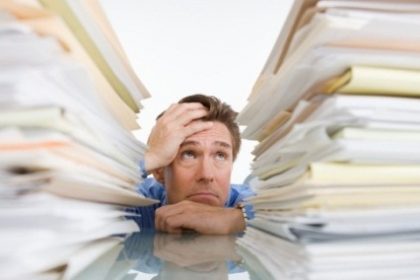 Several of our clients have recently asked, "how long do I need to retain documents in someone's personnel file"?
There is no set period of time that applies to all documents. It is dependent on current laws or statutes.
Below is a table that PlatinumHR has created that shows the various documents, the governing body that oversees the process and the retention schedule for various documents that are typically found in a Personnel Folder.
Let us know if you have any questions.
Employer Record Retention Requirements
On The following table summarizes numerous employer recordkeeping and retention requirements, indicating the longest retention period established by FEDERAL law. State law requirements are not addressed in this table. This document does not attempt to outline all documents an employer may need in all situations.
It is recommended that personnel records be retained for the longest time limit for bringing an action against an employer over an employment decision (i.e., your specific state law should also be referenced in this regard). Further, in the event that a claim is brought against an employer, all pertinent records must be retained until final disposition of the matter. Retention of supplemental records that document personnel decisions and actions may also be helpful. In addition, documents used to prepare reports required under ERISA must be retained for at least six (6) years from the date of filing, though rounding up to eight (8) years would best accommodate late or extended filings.
Relevant Legal Authority
Type of Record
retention period
Age Discrimination in Employment Act of 1967 (ADEA)
Payroll or other records for each employee which contain:
(1) Name;
(2) Address;
(3) Date of birth;
(4) Occupation;
(5) Rate of pay, and
(6) Compensation earned each week.



3 years – every employer shall make and keep


Job applications, resumes, job advertisements, documents related to hiring/failure to hire, firing, transfer, demotions, promotions, layoffs/recall, payroll records, job descriptions, employment handbooks, training programs, employee evaluations, requests for reasonable accommodation
1 year from date of personnel action to which any records relate
Americans with Disabilities Act (ADA)
Applications, job advertisements, documents related to hiring, firing, transfer, demotions, promotions, layoffs, payroll records, job descriptions, employment handbooks, training programs, employee evaluations, requests for reasonable accommodation
1 year from date of personnel action or date record is made (whichever is later)
Consolidated Omnibus Budget Reconciliation Act of 1985 (COBRA)
Copies of all COBRA required notices; any valid documentation or signed acknowledgments that the notices were received by the employee/qualified beneficiary; detailed documentation related to any instance in which COBRA continuation is not offered due to gross misconduct, late notification, Medicare entitlement, etc.; all related correspondence
COBRA regulations do not specify a recordkeeping period. Since COBRA amended ERISA, it is generally recommended that records be maintained for not less than 6 years from the date of record, in accordance with ERISA requirements.
Employment Retirement Income Security Act (ERISA)
Benefit plan documents, disclosure of plan description, annual reports and summary of annual reports, summary plan descriptions, and all recorded information used in compiling required reports (such as vouchers, worksheets, receipts, applicable resolutions, and participants' elections and deferrals)
Generally not less than 6 years from filing (or date would have been filed but for exemption or simplified reporting requirement)
Executive Order 11246 (Affirmative Action)
EEO-1 Reports

1 year

VETS-100 Reports
2 years
Applications for employment (Affirmative Action employers with 150 or more employees)
2 years from the date of filling the position
Applications for employment (Affirmative Action employers with less than 150 employees or contracts of less than $150,000)
1 year from the date of filling the position
\
Written affirmative action plans including supporting documentation, analyses, and related records or raw data; tests given to employees including documents on their use and validation studies
2 years
Internal complaints and termination information for individuals with disabilities, disabled veterans, and veterans of the Vietnam era; includes all records concerning the actions taken and responses to such complaints and actions
1 year from termination of employment
| | | |
| --- | --- | --- |
| Fair Labor Standards Act (FLSA) | Payroll and other records that contain name, address, Social Security number, date of hire, and date of termination, collective bargaining agreements, individual contracts, written FLSA agreements, sales and purchase records, certificates and notices | 3 years from termination of employment |
| | Time each workday began and ended, time each meal period began and ended, total hours worked in each day and each week, rate of pay and wages paid during each pay period, amount of and reason for each deduction from wages, and daily output of an employee not paid on an elapsed time basis | Certain supplemental records, including time cards, need only be kept for 2 years from termination or 3 years from the making of the record. |
| | All employment records of apprentices in a program for skilled trades under which the employer pays a sub-minimum wage | 3 years from the termination date of the program |
| | Employees who are minors: Name, home address and date of birth; certificate of age; dates of hire/termination; times each workday began and ended; times of daily meal period(s); total hours worked each day/week; pay rate for each pay period, amount of each deduction and reason, output of employee if paid other than on an elapsed time basis | 3 years from termination of employment |
| | Employees that are student learners: copies of employment applications; certificates authorizing the employment of student learners; payroll records; and a notation of occupation | 3 years from termination of employment |
| Family and Medical Leave Act (FMLA) | Medical certifications and related medical information; type of leave taken; dates or hours of leave taken; name, position, and pay rate of person on leave; copies of all notices given to or received from employee; documents describing employee benefits and status; records of any dispute between employer and employee | 3 years from the date the leave ended |
| Internal Revenue Code (IRC) | Tax and Social Security records such as income tax withholding, Social Security, unemployment compensation, and advanced date earned income credit payments | 4 years from date of filing |
| Immigration Reform and Control Act (IRCA) | Form I-9 for terminated employees (All current employees hired since Nov. 6, 1986 must have an I-9 on file.) | Three years from the date of completion or 1 year from termination of employment, whichever is later |
| Occupational Safety and Health Act (OSHA) | OSHA 300 Log, the privacy case list (if one exists), the annual summary, and the OSHA 301 Incident Report forms | 5 years following the end of the calendar year that these records cover |
| | Noise exposure measurements | 2 years minimum |
| | Audiometric exams | Duration of employment plus 30 years from termination of employment |
| | Material Safety Data Sheets (MSDS) containing physical and health hazards of each hazardous substance used in the workplace | 30 years from the date the substance was last received in the workplace |
| | Medical records of employees for employers subject to OSHA standards including but not limited to asbestos, benzene, cadmium, formaldehyde, and occupational exposures to bloodborne pathogens | Duration of employment plus 30 years from termination of employment |
| | Employee medical records concerning the health status of an employee including medical and employment questionnaires or histories; results of medical examinations or laboratory tests, medical opinions, diagnoses, progress notes, and recommendations; first aid records and the results of physical examinations considered in connection with any personnel action | Duration of employment plus 30 years from termination of employment (Exception: For persons employed less than one year, medical records need not be retained if provided to employee upon termination.) |
| Omnibus Transportation Employee Testing Act of 1991 | Verified positive controlled substance test results, documentation of refusal to submit to required tests, driver evaluations and referrals, controlled substance testing program administration, and calendar year summary of drug test results | 5 years from making of the record |
| | Records from previous employers concerning drug and alcohol test results of employees | 3 years from receiving records from previous employers |
| | Records of the inspection, maintenance, and calibration of Evidential Breath Testing Devices, | 2 years |
| | Negative and canceled drug tests | 1 year from test date |